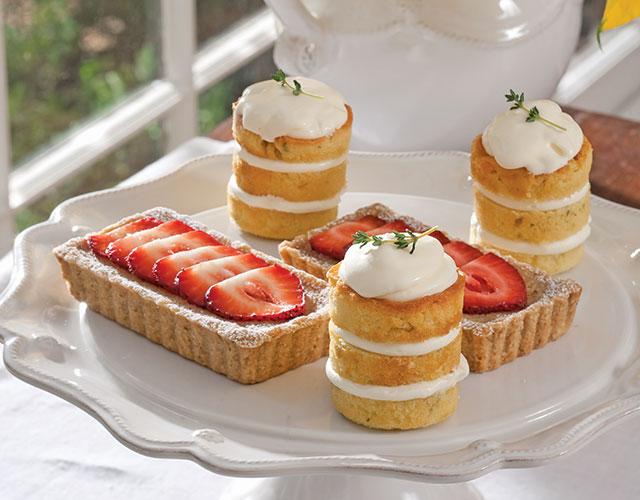 Topped with fresh strawberry slices, these sweet tartlets are a feast for the eyes and the tastebuds.
Buttermilk Tartlets
2014-08-13 02:16:35
Ingredients
1 cup rolled oats
½ cup whole-wheat flour
1 cup plus 1½ tablespoons all-purpose flour, divided
¼ cup firmly packed light brown sugar
¾ teaspoon coarse salt, divided
¾ cup cold unsalted butter, cut into pieces
¼ cup heavy whipping cream
½ cup plus 2 tablespoons sugar
½ cup whole buttermilk
2 large eggs, lightly beaten
¼ cup unsalted butter, melted and cooled
½ teaspoon pure vanilla extract
½ teaspoon fresh lemon zest
1 teaspoon fresh lemon juice
¼ teaspoon freshly ground cinnamon
¼ teaspoon freshly ground nutmeg
Garnish: fresh strawberry slices and confectioners' sugar
Instructions
In the work bowl of a food processor, pulse oats until fine but not powder, approximately 30 seconds.
Add whole-wheat flour, 1 cup all-purpose flour, brown sugar, and ½ teaspoon salt, pulsing to combine. Add cold butter, pulsing until mixture resembles coarse crumbs.
Add cream, pulsing just until dough forms a ball. Wrap dough tightly in plastic wrap. Refrigerate until firm, approximately 1 hour.
Divide dough into 12 equal pieces. On a lightly floured surface, roll each dough ball to ⅛-inch thickness. Press into the bottom and up the sides of 12 (4-x-2-inch) removable-bottom tart pans. Freeze for 30 minutes.
Preheat oven to 350˚.
Using a fork, prick the bottom and sides of dough.
Bake until crust is lightly golden just around the edges, approximately 8 minutes. Let cool.
Reduce oven temperature to 325˚.
In a large bowl, combine sugar and remaining 1½ tablespoons flour. Add buttermilk and eggs, stirring until mixture is combined. Add melted butter, vanilla, zest, juice, cinnamon, nutmeg, and remaining ¼ teaspoon salt, stirring well. Divide mixture evenly among prepared tart shells.
Bake until filling is lightly golden around edges and almost set, 16 to 20 minutes.
Let tartlets cool in pans for 10 minutes. Transfer to a wire rack to cool completely. Cover, and refrigerate until chilled, approximately 1 hour.
Garnish with fresh strawberry slices and a dusting of confectioners' sugar, if desired.
TeaTime Magazine https://www.teatimemagazine.com/
From TeaTime March/April 2011