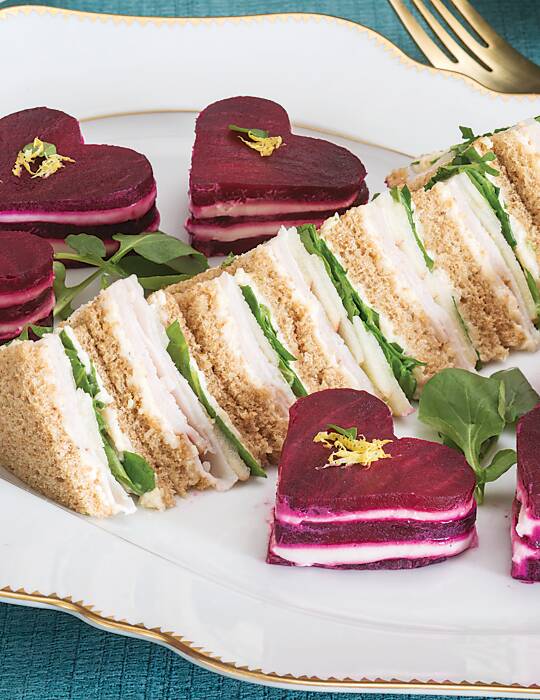 Smoked Turkey & Red Apple Tea Sandwiches are a delightfully delicious savory that guests will love. Smoked Turkey & Red Apple Tea Sandwiches pictured with Beet & Goat Cheese Canapés. 

Smoked Turkey & Red Apple Tea Sandwiches
Ingredients
1 Honeycrisp apple
2 ounces creamy Havarti cheese
¼ cup mayonnaise
1 tablespoon prepared horseradish
½ teaspoon kosher salt
⅛ teaspoon ground black pepper
6 slices whole wheat bread, frozen
⅓ cup fresh arugula
¼ pound thinly sliced deli smoked turkey breast
Instructions
Using a sharp knife, cut apple in half vertically. Using the thinnest setting on a mandoline, cut 24 slices from apple. Discard seeds.
In the work bowl of a food processor, process together cheese, mayonnaise, horseradish, salt, and pepper until well combined.
Spread 1 tablespoon cheese mixture onto each frozen bread slice. Arrange a layer of arugula on cheese side of 3 bread slices. Stagger 8 apple slices on top of arugula. Shingle approximately 2 turkey slices on top of apples. Top each with a remaining bread slice, cheese side down, to make 3 sandwiches.
Using a serrated knife in a gently sawing motion, trim crusts from sandwiches. Cut each sandwich diagonally into 4 triangles. Serve immediately, or cover with damp paper towels, place in an airtight container, and refrigerate until ready to serve.
Discover more seasonal recipes, table settings, and teatime inspiration by ordering your TeaTime subscription today!